Right now we collected some good examples of web designs to inspire you and to improve that you don't need a lot of components to provide a concise website. Have a look at the examples we have here and share with us in the comments area minimal sites you've created.
See also:
A cute and girly illustration design website where you can find inspiration for your work.
This is a colorful page that will teach you how to fill in college applications.
A good page for anyone that needs college resources, be it a teacher or a student.
This cool site features animated illustrations and is suitable for kids ages 2 to 8.
A site suitable for students who want to meet likeminded people in their area or campus.
This digital agency can help you create an amazing web site and reach your target audience.
A web site with amazing interactive illustrations and social media features on a colorful background.
A perfect example of a an interactive website with well done illustrations. The site is family friendly.
This is an online store with nice graphics and many different tea and cookie recipes.
This agency will help you with any digital media you might need.
If you are not an English speaker check out this page and you will notice a portfolio and email fields.
Manchester based people can take advantage of what this web design agency has to offer.
This agency offers workshops, training sessions and more all over a three day period.
Check out the WWF website and get ready for some inspiring work.
This web site is a good example of how you can sell your services with an illustrated page.
A web designer's page including social media, animation and contact info.
This is an explained video website with many categories such as a blog and email.
More Than Twenty features galleries, pricing info and lots of good photography.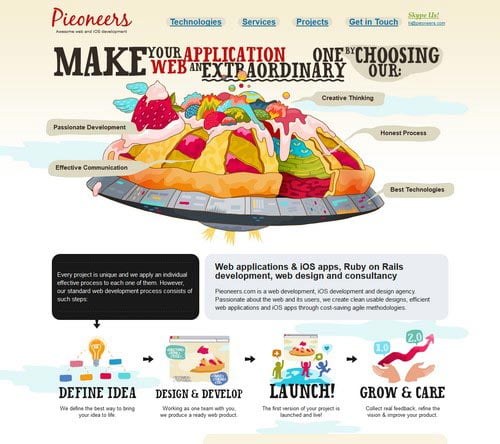 Pieoneers is a reliable agency website full of important info on web development.
This is a french web designing page with social media buttons and easy to access info.
A beautifully designed web page with photography, a shop and social links.

Lush Types offers custom cool icons for your website. All the icons are retina ready.
A funny looking website that encourages you to purchase a children's book.
The page features a clock that shows you the right hour in your location.
A cool conference website. If you attend, you will learn more about the wonders of web design.
This UK energy consumption guide will help you become aware of power saving.
This page is targeted towards Spanish natives and features cool designs and animations.
A site for a quiz any child should take. The pages is funny to look at and informative.
Keep in mind that not everyone has enough time or patience to wait for your website to load, so avoid creating such a site.

This design illustration studio features a blog, a portfolio page and nice graphics.

The site for a graphic illustrator based in San Francisco.

This site makes use of forever scroll feature, combines with pretty colors and animation, so get inspired!

Now you can buy a cute gift for a friend by using this animated page.

The web site for an action game that every teenager will enjoy.

Remember to take a look at this page if you like zombies for a truly scary experience.

Surprise a loved one with a custom card made by the designers of this page.

Learn how to add photography content to your website by browsing this page.

The site for a cool web design and development agency located in Raleigh.

An interactive page that allows you to choose between 2 websites or services.

This agency is specialized in digital media and web design and can be contacted by filling in a form.