In this post you can see some of the excellent premium WordPress Themes that were released in 2012. Theses themes are clean, and modern design and can be used for any type of website such a portfolio, business, blog, magazine. etc. Hit the jump and see complete collection of WordPress Themes.
Premium WordPress Themes Collection
MayaShop e-Commerce Theme
MayaShop is a flexible responsive WordPress theme that utilises the powerful JigoShop and Woo Commerce plugins to create a versatile WordPress powered shop, with unlimited layout options and unlimited skins. Make this theme your own. ( Price: $60)
Gonzo Responsive WP Magazine
Gonzo is built with semantic HTML5 /CSS3 and iscompletely responsive. Not only is it responsive but it also keeps that magazine feel right down to mobile screen sizes.Easy to use review system with support forboth stars and percentage ratings.(Price: $45)
SmartStart WP
SmartStart WP is a simple and clean but still professional WordPress theme suitable for any business or portfolio, and it's created by using the latest HTML5 and CSS3 techniques. With a responsive design it is easily usable with any device.(Price: $45)
Expression Photography WordPress Theme
Expression is apowerful responsiveWordPress Theme, best suited for photographers and creatives who use portfolios to effectively present their work.(Price: $45)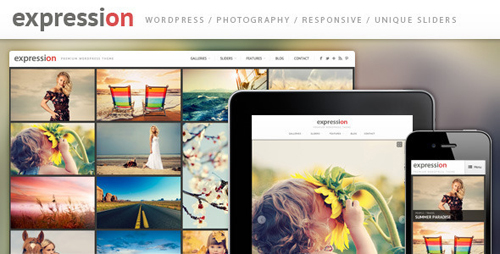 RT-Theme
RT-Theme 17 is a premium WordPress theme with powerful CMS tools. You can use it for business, corporate, product catalog, services or portfolio web sites. The product and portfolio tools also give you wide opportunities to use in various services as tour itineraries, rent a car, real estate, hotel presentations and much more.(Price: $50)
Crius Photography Creative Portfolio
Crius is the Responsive Photography, Portfolio, Personal website Template built with latest WordPress features. Advanced Gallery admin, Kenburns Slideshow etc.(Price: $45)
Nevada Multi-Purpose WP Theme
Nevada is fully responsive multi purpose WordPress theme,(Price: $45)
WowWay Responsive Portfolio Theme
WowWay is an incredibly unique and highly interactive WordPress theme for creative portfolios. Based on a responsive grid, packed up with lots of cool features and built on a powerful admin panel, this can become the perfect theme for you!(Price: $45)
Choices – Responsive Business and Portfolio
Choicesis a responsive WordPress Theme (try resizing your browser), suited for business websites and users who want to showcase their work on a neat portfolio site.(Price: $45)
Bigbang Responsive WordPress Template
Blanco WordPress E-Commerce Theme
Blanco is clear, easy to customize WordPress template. Many new features such as powerful admin module, slideshow, new products display on homepage, extra links and blocks and so on. This WordPress template is one of the most powerful and flexible templates at WordPress store.(Price: $55)
REWORK Responsive Modern WordPress Theme
REWORK is a responsive HTML5 / CSS3 theme for business, software or blog sites. This is a flexible, multipurpose, modern and sleek WordPress theme, suited for any situation(Price: $45)
Sahifa – Responsive WordPress News,Magazine,Blog
Sahifa is a Clean Responsive Magazine, News and Blog Template .(Price: $45)
MetroStyle
The MetroStyle theme is SEO optimized and uses only CSS for fast loading.(Price: $45)
SCRN single page portfolio
SCRNis a single responsive portfolio wordpress theme. Perfect to promote your work or your business. Is compatible with all modern mobile devices. Other htan the minimalistic single page design, it also has a blog.(Price: $35)
Megazine Responsive WordPress Theme
Megazine is a WordPress theme especially for blog, magazine, news editorial. It's very clean, minimal with modern design. This theme is also has a responsive ability. Moreover, it comes with tons of features.(Price: $45)
Doover Premium WordPress Theme
Doover is wonderful, professional and easy to use template with lots of options and configurations. This theme has been created for people who want to save their own time for create nice and great looking page.(Price: $50)
Immersion Fullscreen WP Theme
Immersionis the wordpress theme you need: elegant, simple, feature rich. All the latest HTML5 , CSS3, jQuery, wordpress are present. It's developed on the css skeleton boilerplate so it resizes beautifully on smaller screens like tablets and iphones, plus it comes with a layout manager that allows you to add columns with ease.(Price: $45)
Inspired Responsive Business WordPress Theme
Inspired is a responsive wordpress theme that comes packed withtwenty flexible skins!Setup your site in no time flat with theUser Friendly Admin Panelwhich comes with 500+ Options.(Price: $40)
Zwin – vCard WordPress Theme
Zwin is an impressive and professional online vcard, a beautiful portfolio with sliding effect, resume and contact information with Google map.(Price: $30)
Hoarder WordPress Blog Theme
A grid-based, layout-shuffling, finger licking theme with support for all sorts of content – it's responsive to boot. Show off galleries, quotes, links, video, audio, or good old standard posts. With three different home page templates, you're sure to find a look to suit your blogging needs.(Price: $50)
ExtraNews
ExtraNews is a uniquely responive news theme for all sorts of publishers. Great for review, news and blog sites, with integrated reviews, video, slideshows, and galleries in each post.(Price: $50)
GymBase
GymBaseis a gym fitness WordPress theme designed in a minimalist style. It has a responsive layout that looks great on mobile and tablet devices. The main point of focus is represented by home page slider which scales down automatically depending on your screen resolution.(Price: $45)
Daisho – Flexible WordPress Portfolio Theme
Daishois a portfolio solution for creative professionals and companies looking for a minimal and professional look. Flexible and responsive presentation, smooth navigational flow and clutter-free approach.
Nostalgia – Portfolio WordPress Theme
Nostalgia is a minimal portfolio WordPress theme – personal or corporate, based on full-screen slider and sliding pages. The theme is maintained in a minimalist, contrasting style. Background images kept in retro tones contrast with modern minimalist content.
Xenastore Free eCommerce WordPress Themes
Xenastore is an ecommerce WordPress theme. This theme depends on an ecommerce plugin calledCart66 to function as an e-commerce portal.This is a free plugin with an option to upgrade to a paid pro version.
Good Space Responsive Minimal WordPressTheme
Good SpaceGood Space is a WordPress theme especially for creative agency. It's very clean, minimal with modern design. This theme is also has a responsive ability.