In today's time development of high-quality WordPress themes is so quick n' fast. As there are alot of online marketplace's like elegantthemes, themeforest, mojo themes and many other websites are releasing themes day by day. It's pretty difficult to stay up-to-date on the latest avaiable themes. So I've decided to put together newely 30 best WordPress themes that have been released in the last month. Take a look inside for the showcase of Best WordPress Themes of February 2013.
See also:
Best WordPress Themes, February 2013
Flying News WordPress Theme
FLYINGnews is a Retina-ready and fully responsive Magazine/Blog theme. It comes with a rich feature set to allow you to create your advanced and user friendly blog with a great attractive look.
Lotus WordPress Theme
Lotus is a powerful and flexible theme that comes with very rich tools and options to make creating website as simple as possible. For example one of its tools is Smart Page Builder. In short, this is an awesome drag & drop page building tool. By this tool you can create any page (for example home page) layout with very rich collection of web elements in a minute without writing html or touching even one line of code. In other words, you can quickly design unlimited unique looking pages in simple drag & drop visually.
Depth WordPress Theme
It is a perfect foundation for Creative / Portfolio / Personal site with Blog, Portfolio, Galleries, etc. If you want to impress your visitors with an awesome unique and fresh-looking site – this template is exactly right for you!
Heat WordPress Theme
Heat is a Premium Portfolio WordPress Theme with a very unique layout especially suited for photographers, illustrators, graphic designers, art and creative directors, architects, luxury businesses or bloggers. It's equally adept at showcasing design or photography projects. Its page templates accommodates multiple galleries, each with as many images as you want.
Drean WordPress Theme
Drean is a minimal, clean and responsive Portfolio/Blog WordPress Theme that is hand-crafted to excellence with creative artists and agencies in mind.
Nevia WordPress Theme
Nevia is a premium WordPress theme created for corporate and portfolio websites with support for WooCommerce. It features a very clean, responsive design that is perfect for creating professional image of your company. It's easy to customize with awesome features like LayerSlider, OptionsTree panel for settings and WordPress Customizer.
Yellow Project WordPress Theme
It is high time to show you YellowProject Retina Ready WordPress Theme. This outstanding theme with it's clean design and easy to follow navigation will catch your eye at first glance.
Minimum WordPress Theme
MINIMUM is a high quality professional WordPress theme for modern business or interactive creative use. Choose between 3 fluid AJAX animated transitions between pages for a creative experience or turn AJAX off to create a width="500″ height="254″ classic website. Besides the predefined animations, create your own scenario by choosing animation type for any page individually.
Kallyas WordPress Theme
Kallyas is an ultra-premium, highly-responsive WordPress theme, built for today websites. It`s super flexible, it has a clean design and code and without no modesty, one of the most complete theme ever created. It has implemented some of the latest technologies and trends and it can be used in a huge variety of domains. It`s also a great deal!
Wise Guys WordPress Theme
Wise Guys WordPress Theme is a highly premium responsive theme designed for users who pay attention to details and usability. Wise Guys WordPress Theme was built using the latest technologies, and comes with a multitude of features such as: custom made page builder, a multitude of customizing options, shortcode generator, Smart Social Tool, Similar Works / Posts Tool, custom shortcodes, custom components and custom widgets.
Newses WordPress Theme
The theme is blazing fast. It's really incredible how fast the pages built with Newses load. As you know, speed is very important when building a site so we've spent a huge amount of time optimizing this theme for news to load extremely fast.
Disillusion WordPress Theme
Disillusion is a gorgeous one-page WordPress theme built on Bootstrap. It features fully scalable icon fonts, awesome portfolios and beautiful typography.
LesPaul WordPress Theme
!LesPaul is multipurpose, modern, elegant, super flexible, Retina-ready responsive WordPress theme which offers great scalability to fit your needs. The theme gives you streamlined user-friendly admin interface using much less screen real estate than in any other theme.
Montreal WordPress Theme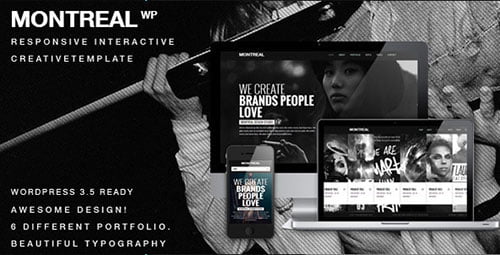 Montreal is a unique modern interactive creative WordPress Theme, perfect for creative single portfolios or creative agencies. It offers fullscreen slideshow, parallax homepage scrolling 6 different portfolio versions 3 different portfolio single items, awesome blog layout, a fully working project planner a contact form and much more!
District WordPress Theme
District is a unique multi-purpose responsive theme for businesses, artists and app developers alike. District is great for showcasing app or product features in a clear and interactive way, leaving visitors with a lasting impression.
StyleShop WordPress Theme
StyleShop is a sleek and powerful eCommerce WordPress Theme that provides all the tools you need to launch a successful online store. The design is beautiful and responsive, and includes a unique mobile layout that makes browsing your website on a breeze no matter what device you are using! If you are looking for an all-in-one solution for your new business, then StyleShop is the theme for you.
Read Wp WordPress Theme
Read is a responsive html5 wordpress theme focused on readability with a minimalist design.
Cubus WordPress Theme
Attractive, simple and easy to use – this is Cubus. You are a designer or photographer? From now on you can show your ideas, work and everything what pops up in your mind in a modern, stylish way. Cubus brings you endless customising options that helps you to perfectly present your work.
Inspire WordPress Theme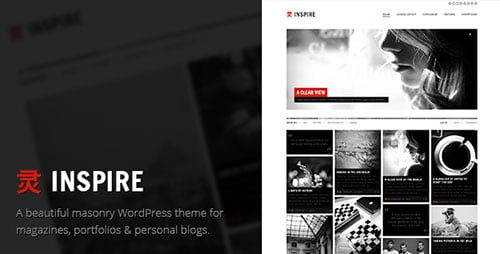 Inspire is a cutting-edge, masonry based, multi-purpose theme. With its clean design it is great for projects that emphasizes a stylistic and modern look. Add the powerful grayscaling option for an instant artistic, noir feel and Inspire is sure to stand out in its own understated "less-is-more" kind of way.
Proxy WordPress Theme
Proxy is a single page portfolio theme for creative teams. It is based on simple, pixel perfect flat design, that is retina-display ready, ensuring that your content shows sharp and beautiful on devices with high resolution screens.
Bretheon WordPress Theme
With Bretheon you get totally new & fresh solution for your business. This theme can be used for each kind of page. You can use this product with boxed layout or full width. But it`s not everything. You can also choose best options for footer which can be included into the rest of page or can be separated. This is really great feature and makes your site look best!
Time Warp WordPress Theme
Timewarp is a WordPress theme especially for basic users, bloggers, photographers or artists in any fields that want to communicate on their own with people. It has the ability to showcase your projects, gallery, video or audio files with ease and in a very clean, minimal modern design.
Nash WordPress Theme
NASH is a beautifully simple, visually stunning, and striking 'One-Page' creative WordPress theme. Perfect for design agencies. The template is fully responsive, and looks amazing on your Smartphone, Tablet, and Desktop. Beautiful typography, gorgeous iconography, subtle CSS3 effects, and those small details that really make you stand out from the crowd.
Coffee Shop WordPress Theme
Coffee Shop is a premium responsive WP template for Cafes and Bistros website. After purchasing this theme, you will receive the WordPress version as well as 5 PSD files. They are all layered and well organized in folder for easier use.
Rocket Board WordPress Theme
Rocket Board is a super awesome portfolio WordPress Theme with METRO style. You can set each thumbnail size as 1×1, 1×2, 2×1 or 2×2 easily. This theme also allow user to set specific colour on each metro box or just use the default colour from admin panel. You can also set the first state of metro box to show as colour box or show as feature image.
Ekho WordPress Theme
Ekho is a unique, awesome, creative, fullscreen template which will really rock your world!
Emerald WordPress Theme
Introducing a Modern and Elegant wordpress theme for corporations. You can build beautiful sites within minutes, it has clean and user friendly design and also which is easy to use and provided flexible and various options such as Page Builder and Shortcodes.
iKnowledge WordPress Theme
iKnowledge is a slick knowledge base WordPress theme. iKnowledge features a fresh and clean design, focusing more on the content. It also comes with a rating system and post view counter to help you track article performance.
BlogDrops WordPress Theme
Blogdrops is infinite, fresh and minimal WordPress theme with mansory and fully responsive layout. Theme is suited for personal or magazine websites. Theme includes lots of advanced features and functions and is based on solid backend framework.
Skybox WordPress Theme
Skybox is a responsive and retina ready multipurpose WordPress theme with two layout options: Full-width and Box layout. Skybox is suitable for business, portfolio or personal blog usage for including various page templates with rich styling elements and unique features as Revolution Slider, portfolio, megafolio (multi-grid portfolio), one-page video showcase, social timeline, retina icons, blog with 3 different layouts and various content variations with different layouts including three different latest project and latest posts sliders.
Cubrik WordPress Theme
Cubrik is a multi-purpose responsive WordPress Template. Features include: portfolio gallery, lightbox gallery; fullscreen portfolio slider; unique product customization order wizard with PayPal ecommerce integration.